I wish I could say the binge had been worth it. There were some very decent plays involved, and only one truly dreadful revival of a musical, but I came away from it all with a mild hangover of disappointment and scant enlightenment. Even the gorgeous Italian nude in The
Judas Kiss,
who draped himself suggestively over furniture and sauntered about the stage on plein air after a long while became awkward and tedious--a fault not of the Italian's but of Neil Armfield's, the director.
David Hare's 1998 play
about Oscar Wilde's relationship with Lord Alfred Douglas so far stands the test of time as solid theatre fare, but goes no further. There are some really wonderful speeches but they are so self-consciously really wonderful speeches. Rupert Everett as Wilde was very entertaining, though "role of a lifetime" was everywhere evident in his performance.
I would like to see Freddie Fox who plays Bosie in another role in another play sometime soon. And I'd like to see the Italian all alone in my boudoir (that's him on the right next to Bosie, dressed, alas).
The same cannot be said for any of the actors in the excruciating revival of
Cabaret
.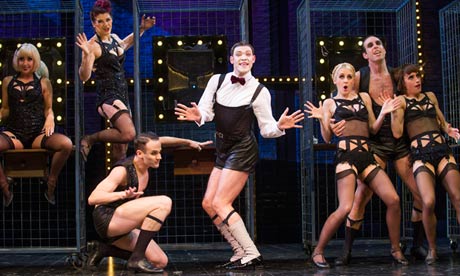 I know it's gotten four stars and everything but the production would have been more entertaining and "edgy" in the hands of some summerstock theatre in the heart of Kansas. (We walked out and the doorman at the Savoy Theatre told us it got better in the second half so my judgement is admittedly half-baked.) We did have a grand time at the American Piano Bar at the Savoy so the evening wasn't a complete waste. Caryl Churchill is one of my favourite playwrights and
Love and Information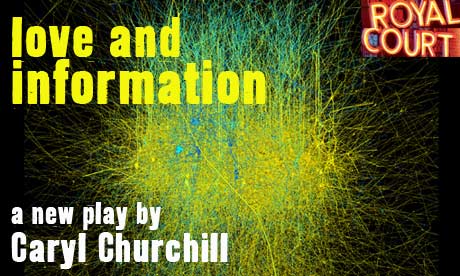 was diverting for about half an hour and then it was just repetitive. It's a series of vignettes about communication in our capitalist-techno age but it relies too heavily on the likes of Oliver Sacks, Alan Lightman, and Lydia Davis i.e. the poetry to be found in neurological disorders, theoretical physics, and the quotidien. It felt tired to me, unfresh, and didn't amount to anything, or nothing. Churchill's play
Blue Heart
still fills me with excitement just thinking about it and I saw fifteen years ago in Brooklyn. In this age of revivals, someone should revive that.
Jumpy,
about a mother-daughter relationship, was surprisingly much darker than I had been lead to expect from reviews and full of very disturbing--and very funny--writing, but I had a fair amount of trouble with just how thoroughly awful the daughter was.
Some of the problem no doubt is with the actress but by no means all...she was almost not allowed to be human. I went to the play really to see Tamsin Greig--she's one of those actresses that I just want to see what she's doing. I also went because I wanted to support a woman playwright--there are far too few. And I am eager to see whatever it is April De Angelis does next.
Last of the Haussmans
at the National was enjoyable enough though too long and full of plausibility issues. Julie Walters exquisite performance as the dying hippy completely stole the show. Rory Kinear, whom I very much like as an actor, was over-channeling Simon Russell Beale. I like Helen McCrory too but she was a bit wasted. The best speech in the play is when the Rory tells his ex-flower girl mother that while she was off at ashrams in India ostensibly changing the world, the real revolution was taking place with Thatcher and Reagan back home. The truth of that observation stings deep.
What an absolute treat to see the absolutely brilliant (so yes there was some brilliance in my binge) Eileen Aitkens so up close in the Jermyn Street Theatre's production of an old Beckett radio play entitled
All That Fall.
Trevor Nunn writes the primer on how to stage a radio play here but ultimately the play itself, though full of wonderful Beckettian moments, is not a prime example of his genius. Michael Gambon's part is small but he, of course, makes it very big.