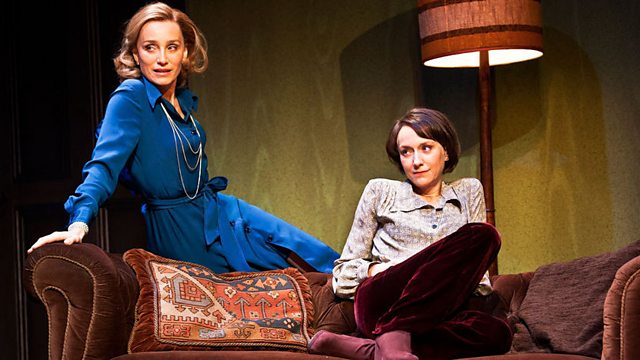 Will her wig fall off? I kept asking myself. What does either of the women see in the flailing, entirely unappealing, wholly unsexy Rufus Sewall rendition of Deeley? We get the idea that he's supposed to be a domineering creep but there's got to be more nuance to the guy than that. If only Scott Thomas (Anna, the night I saw it) and Williams (Kate) would have swapped roles DURING the performance instead of for alternating performances I would have been so much more entertained. Director Ian Rickson should have thought of that gimmick. As it was, I was lucky because whenever what was happening on stage became too boring I got to watch Anna Wintour who was in the audience. She was wearing a coat appliqued with white daises. Prada? And those snakeskin heels! Was she terribly disappointed not to get the gig as US Ambassador to London? I wondered. Might she get up on stage and play Anna? She certainly wouldn't need to fuss with her wig and she wouldn't have to ACT charmingly aggressive and sexy. I read somewhere the play is supposed to be "darkly comic, erotic and sensual, haunting and poetic." Hmmmm. I suppose there might have been some of those things if there had been ANY emotional connection between the actors, if Kristin Scott Thomas hadn't needed to use the Pinter Pauses to straighten her wig, and if Rufus Sewall wasn't so convinced he was in another Tom Stoppard play (stole that from an excellent comment to the Whingers' review). As far as I could tell, Lia Williams just gave up and let the others take over--in so far as anyone was bothering to take over on stage. Anna Wintour--help! I wanted to fault the play, which I do--I mean a whole play based on an underwear stealing incident is rather quaint but I can imagine how this play could be an incredible challenge for actors if you got the right combo. To plagiarize myself, what I wrote about Kristin Scott Thomas in the production of
Betrayal
she did at the Harold Pinter Theatre in 2011 could be said of this production:
" I saw it very early in the run, and it already felt, well, tired, and so did she. Even her voice seemed to crack a lot. I felt as if the three actors believed that their performance was the sideshow to something really big happening somewhere else--whereas the key to this play is the utter self-absorbtion of its three protagonists, their triangle central to the very functioning of the universe."
Actually, this is the production of
Old Times
that I would have liked to have seen--yes, that's Liv Ullman behind Michael Gambon from a 1985 production at the Theatre Royal, Haymarket.